In this article, we will review how to copy content in GuardTek.
When you see the copy icon on a page or in a window

you can easily copy items from one location to another or copy to the same location to make a similar item with a different set of parameters.
NOTE: You may also see a Copy column to utilize this feature: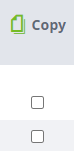 This feature allows you to quickly set up a new site with similar content requirements as previous locations or modify existing items to create new content.
Several modules carry this feature, and all work similarly.
Check the box(es) in the column to select the item(s), then click the copy icon

and click "Enter."