In this article we will take a high level overview look at the Dashboard module and go over what it is most commonly used for by answering some frequently asked questions.
What is the Dashboard?
The Dashboard is designed to be a customizable and easily sortable, quick, visual "at-a-glance" representation of the Activities, Tours and Shifts as found in the Logbook that are most important to you.
You can set up the Dashboard to quickly view activity and incidents by personal preference using various Widgets inside of individual Containers.
EXAMPLE: a graph Widget in the Dashboard view showing the number of activities by type in an individual Container: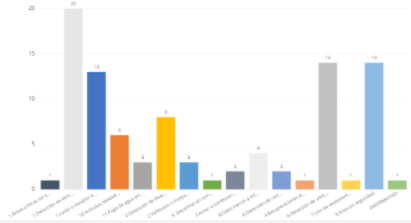 What is a Widget?
A Widget is a chart, graph, percentage, number or map of sorted Activities, Tours and Shifts as found in the Logbook.
When creating individual Containers you will be able to choose from the available Widgets the one(s) you prefer best.
SAMPLE: Available Widgets to choose from:

NOTE: You are able to further sort and customize the the Widget once a Widget Type has been selected. For further details on set up options please see the Resource Center article Setting up Widgets
There is also the option to select a Predefined widget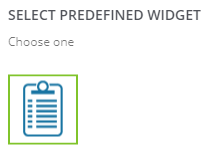 Selecting the Predefined Widget will not give you any customization options but rather simple create a Container with a number total specified Activities, Tours or Shifts.
What are Containers?
Containers are the individual boxes on the Dashboard View page.
Containers allow you to:
(1) Stylize specific data with a Title, put it on a specific Dashboard View Page, identify it with an optional Icon and choose a Color Scheme.
(2) Choose from multiple Widgets.
(3) Sort the data by a specific Customer(s), Date and Time Zone.
(4) Gather and sort very specific data to be displayed.
(5) Create multiple quick at-a-glance looks of data and over multiple time frames.
How to Access the Dashboard
To access the Dashboard:
1. Log onto your Guardtek web portal with Supervisor credentials.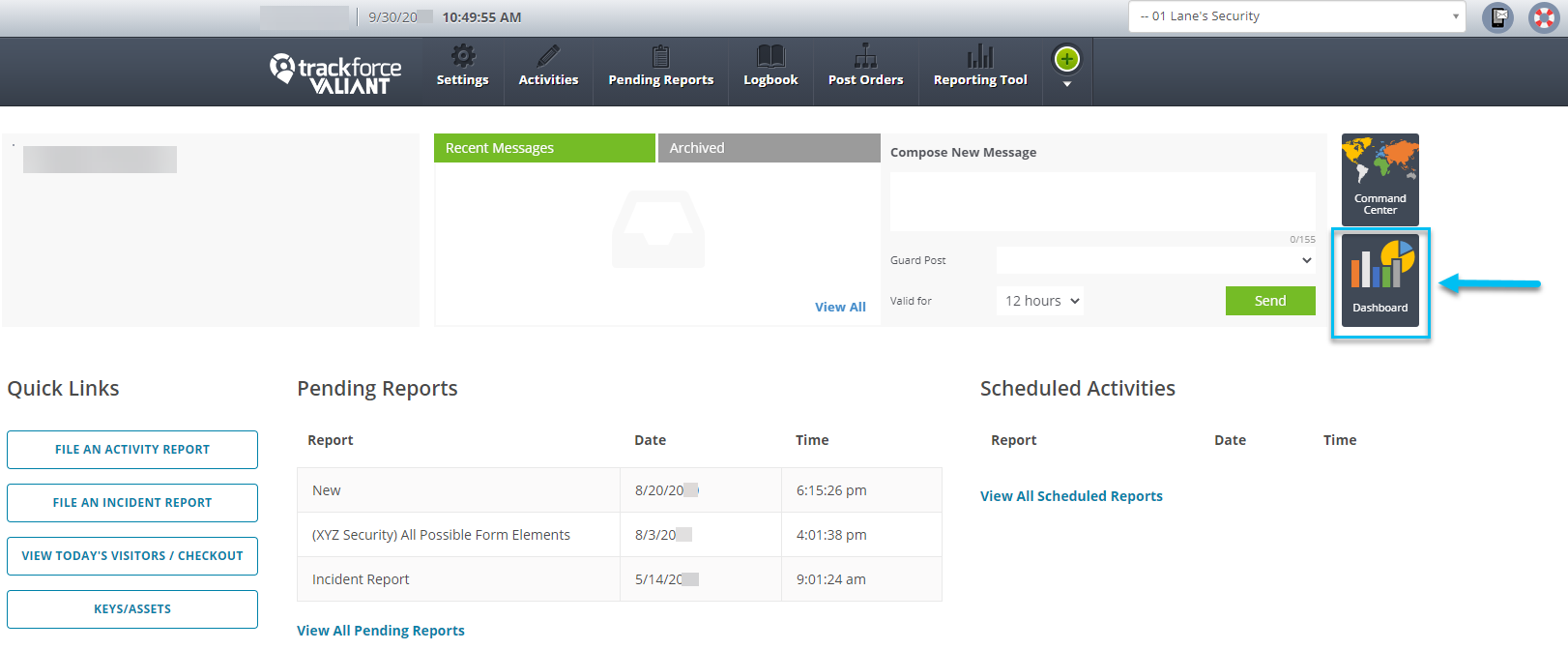 2. On the home page click on the Dashboard icon.

3. This will take you to the Dashboard view.
Accessing the Dashboard for the 1st Time
When you log onto the Dashboard for the 1st time it will be a blank page with only a prompt to Add Widget to get started.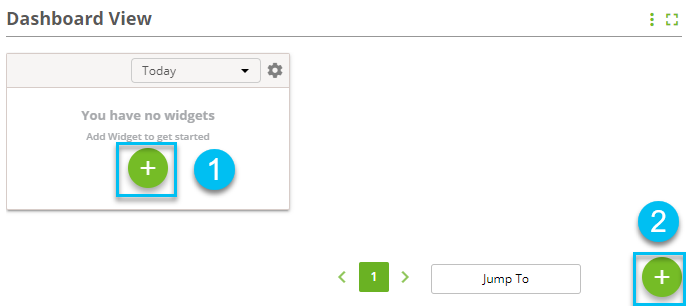 You will see 2 green circles with a white +. 1 in the blank Container (1) and one and the bottom right hand corner of the page (2).
For a detailed explanation of how to add Widgets and Containers please click on the link to the Resource Center article, How to Add a Container and Widget.