In this article we will look at the Client/Account Mgmt. portal levels and define where certain functions are "nested" in the hierarchy.
Client - Level 1
Client can refer to the Trackforce client, but more often this is the Trackforce client's customer, the company they are providing security for.
For Example: XYZ Security has their own Guardtek.net web portal and has their own Client/Account Mgmt. internal hierarchy built out, but they will also have many customers as well. Very commonly the client name will be listed by the umbrella management company or the property management company that signs the checks.

Site - Level 2
The Site normally refers to a specific property, by address, that is in the management company's portfolio.
Hypothetical Example #1: ABC Property Management is a large apartment management company and has 4 properties in it's Anytown portfolio that XYZ Security provides security for.
XYZ Security would likely build out the Site hierarchy like this: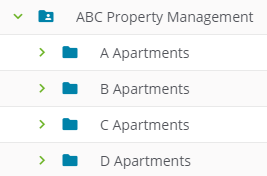 Hypothetical Example #2: Global Cola provides their own internal security using Trackforce Valiant for all of it's North American bottling plants. Their hierarchy might look like this: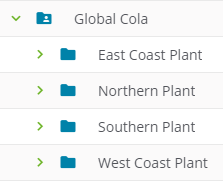 The Site - Level 2 is where Activity Templates, Tours, NFC Tags, Keys & Assets, and Visitor Setup are all nested and can be managed in the Settings module.
Activity Template
Tours
NFC Tags
Keys & Assets
Visitor Setup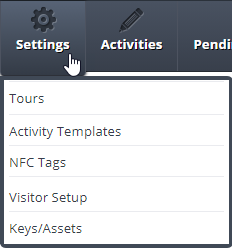 Location - Level 3
Location - level 3 allows you to add and individually name a single or multiple Locations under a Site.
Post - Level 4
The Post - level 4 is where you can add or enable:
A phone number
Tag
Post interface code
Specify a Minimum number of officers on post
Attach it to a Master Site
Enable mandatory breaks for guards assigned to this post
Enable equipment checklist
Input Address for GPS map Guardroom coordinates
Enable emergency button on ActiveGuard devices
Enable "Call Me" button on ActiveGuard devices
Access Scheduling Options