In this article, we will define what equipment is on your Guardtek web portal, go over when you may need to replace equipment and cover some scenarios of when equipment may need to be replaced.
NOTE: If replacing an Android device with an iOS device on a post, you must remove the Android Guardtek license and add the iOS device as new equipment. You cannot replace an iOS device with an Android device and vice versa. Please see the resource center article, Adding Equipment.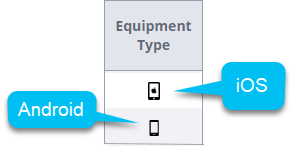 If you do not have the ability to remove and add a device, please contact your Success Manager or a Support specialist.
What Equipment Can be Replaced?
In the Guardtek web portal, there are 2 types of equipment:
Equipment - This can be any item or object such as keys, flashlights, or other items needed at a Post.
Guardtek License - A reporting device used by this system to submit information.
When Do I Need to Replace Equipment
When a Guardtek license device is broken, missing, upgraded, or is simply being replaced for any other reason, you can use the replacement feature to swap a currently registered device for another.
NOTE: Your account's license or device count cannot be increased by replacing equipment.
If you need to increase your account's license or device count, please contact the Sales department via email at sales@trackforce.com or via phone at +1 (845) 474-0033 ext. 3.
How to Replace Equipment (a Device)
To replace equipment:
1. Log onto your Guardtek web portal as a Supervisor.
2. Hover over the Settings module and click on the Equipment option.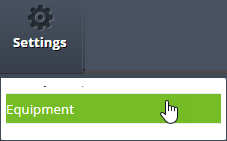 3. On the Equipment page, click on the Replace button
​

4. In the pop-up window, click on the Serial Number field and type in the Device ID Number of the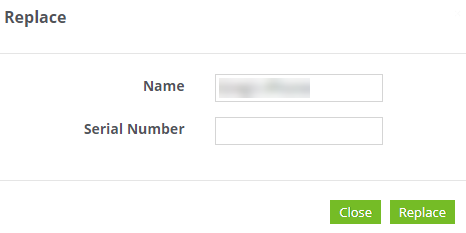 ​​​​
NOTE: The quickest and easiest way to get a correctly formatted Device ID Number is to install the m-Post application on the replacement device, open the m-Post app, and on the login page of the replacement device, get the number displayed above the login field. ​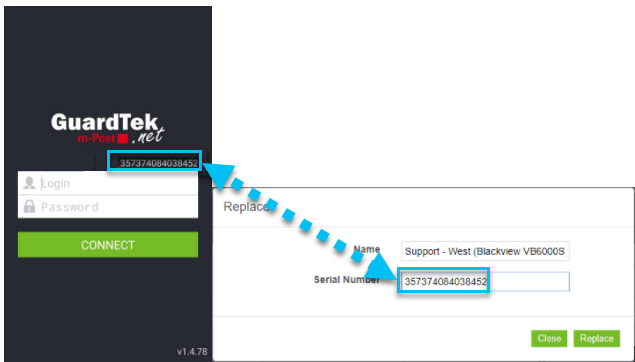 ​
Once entered, click anywhere on the window to validate the number.

= A valid number.



= An invalid number, or the system has detected that this Device ID Number is already in use. Please check your other sites for this Device ID Number.
The number should not contain blank spaces or special characters.
​


​
You may also change the device's name by editing the text in the "Name" box.
How to Replace Equipment (Other)
When an item is added as equipment, and you must replace it on a Post, you can keep the name in Guardtek or rename it if needed.
For example, in the screenshot below, replacing keys for Building 101 would not necessitate any action in GuardTek. If you want to change the name of the keys (Equipment) to reflect new keys, you can type in the new name and click the green update button at the bottom right-hand corner.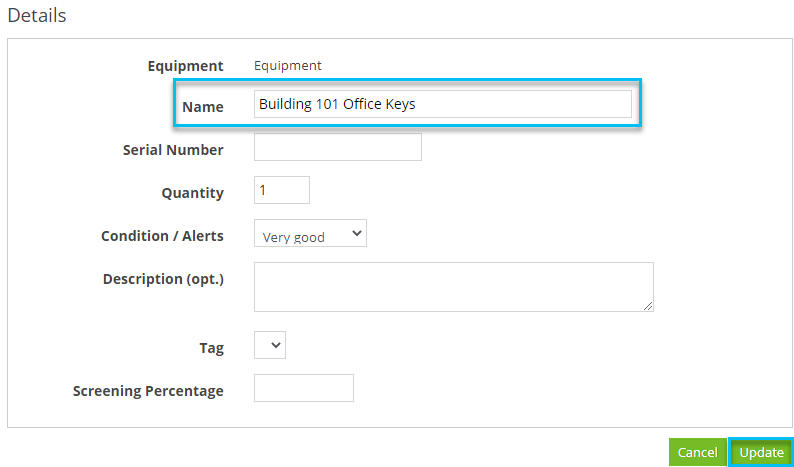 To learn how to Move Equipment from one site to another, click here