Quickly dispatch support to workers that trigger alarms
Overview
This feature aims to efficiently locate all agents in the Lone Worker Protection (LWP) alarm's immediate vicinity (based on a search radius) to be dispatched to the alarm's location as quickly as possible.


Before you start
Here are some things you must do before you start:
You will need access rights to the Command Center
Lone worker protections need to be enabled on each device.
Configuration
Located in Settings > Account Settings > Command center
To activate the feature, choose:
The number of agents to alert (recommended value 5)
The contact radius (depending on the local topology, recommended limit 50km)
Select Save.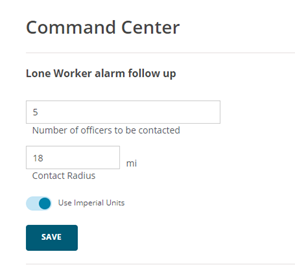 Use LWP follow up with Post
Go to Logbook > Command Center> Map (main)
The map displays the location (exact or delayed depending on data/GPS network quality) of all devices in use by logged-in users.



When an LWP alert is triggered, a Warning symbol will be shown next to the icon of the user who initiated the alarm.




Activating an LWP alert will also zoom in on a circle (with a radius equal to the value configured, in this case, 30km) centered on the last location of the alerting device.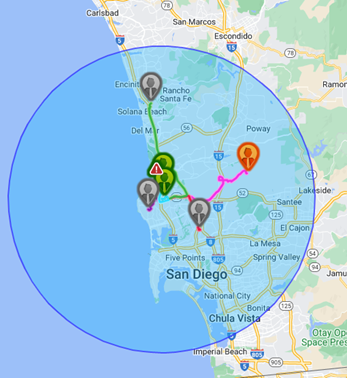 In this circle, icons will display the nearest active devices (based on the configuration in this example, five users are shown) and, for each of them, the fastest route to the location of the alert (accounting for traffic).
If circle isn't big anough to find any other device, user can use drop-down Radius list to extend circle.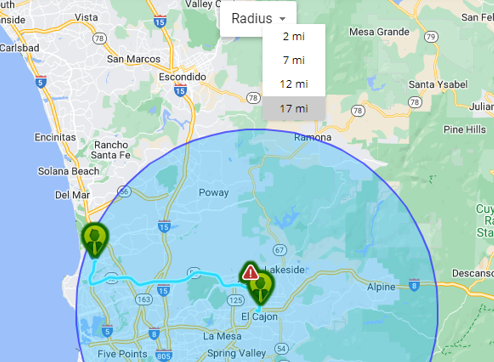 Hovering over a route shows the exact distance and the estimated time of arrival.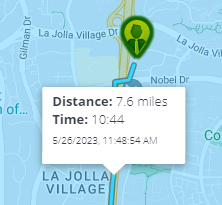 When the LWP alarm is triggered, the Emergency Group Messaging notification tile will also open and shows all the devices in the area (with their distances and estimated arrival times) in descending order of distance to the alert. The device that triggered the LWP alarm will be displayed at the top of the list with the Warning symbol (for identification purposes):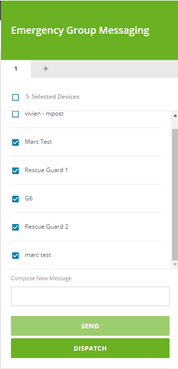 This panel streamlines contact with nearby devices. This allows the supervisor/dispatcher to coordinate and communicate by text message.
This functions like the Instant Messaging module, with responses received displayed directly in this list.
Select or deselect the devices in this list and then select Dispatch to send to the selected devices. You will then be prompted for confirmation: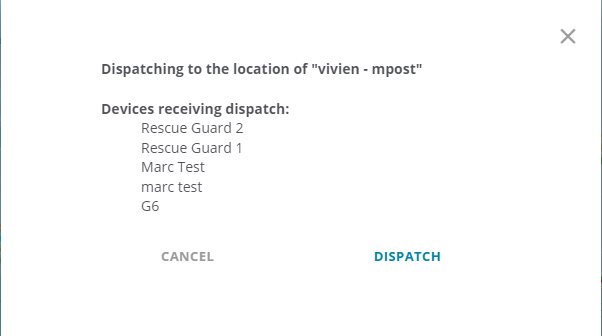 Once confirmed, the left panel switches to PTT (Push-To-Talk) mode to offer direct communication with all selected devices on a shared channel.
*Note that devices without PTT configured will not be included in this channel.


Use LWP follow up with mPost
While using mPost, any device that receives the dispatch will be notified with a tile at the top of mPost's main menu.
The user can either:


Disregard (closes the tile)
Ok, let's go (opens navigation)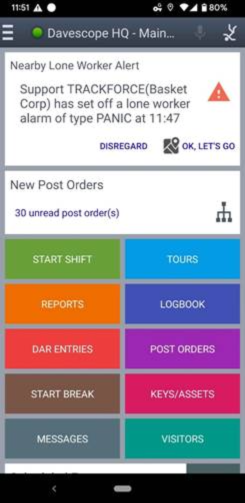 ---
See also