Guardtek offers a page to filter out users who still need to read/open a notification.
1. Log in and go to the Unread instructions page in the Post Orders menu.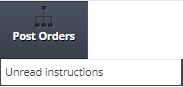 2. The banner displayed allows you to select the desired update from the list and, if required, to filter by user using the second field.



3. Results will be displayed below after the update is selected.

4. Each line represents a user who has yet to open the update. The In Service column shows whether the user is currently present on his workstation. Headers can be used to change the order or filter data.


5. If required, click the Export csv button in the top right-hand corner to obtain a spreadsheet file listing all the results.