In this article, we will go over the Smartforce scheduling hierarchy in the Schedule Maintenance section under the TLM module and discuss each level and how they relate to each other in the hierarchy.
The TLM - Schedule Maintenance hierarchy: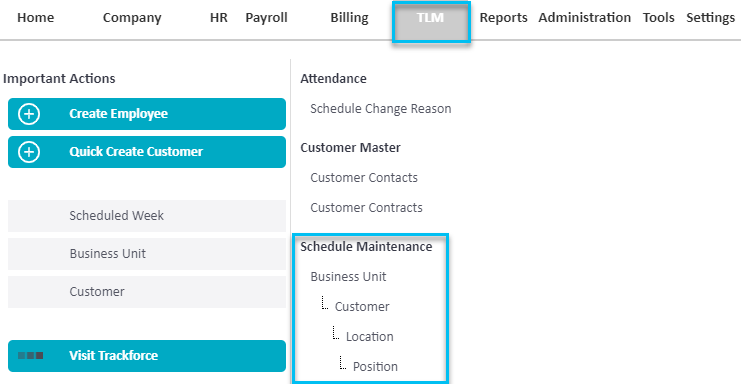 Business Unit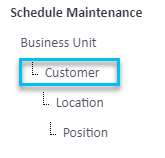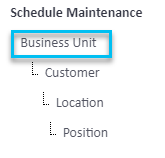 What is a Business Unit?
A Business Unit is typically used to specify an individual State or Time Zone.

NOTE: This is a customizable designation, and you can define Business Units as needed.
A Business Unit will "house" or contain individual Customers within it.
Customer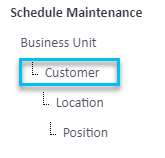 What is a Customer?
The Customer level lists all the individual clients within a specific Business Unit - State or Time Zone.
In many cases, an individual Customer may also have multiple Locations within it.
Case Study: Let's use a retail chain such as Costco as an example.
Costco is the Customer and exists within the NY Business unit.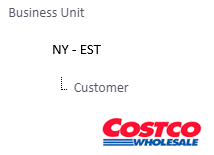 A Customer will "house" or contain one or more Locations within it.
Location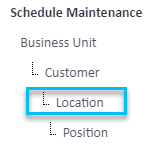 What is a Location?
A Location is typically the physical address where employees report to work.
In the example of Costco, there can be several Locations of the Costco Customer within the business unit.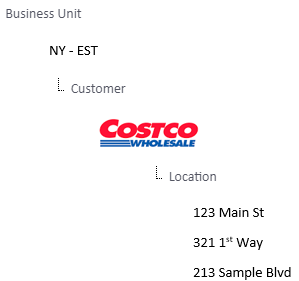 A Location will "house" or contain individual Positions within it.
Position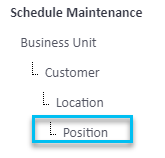 What is a Position?
A Position can refer to the area the employee is working at a specific location, such as the front desk or loading dock, or it may also be a particular position, such as an "unarmed guard" or a "supervisor".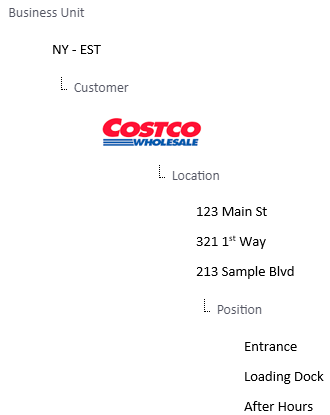 A Position will "house" or contain the individual Shifts that employees will work, broken out by the times and days the positions need to be filled.