This article will review the Split Master and how to create a split invoice in TLM Billing.
The Split Master
The Split Master allows invoicing to be divided among one or more customers.
Each customer receives a portion of the invoice based on the percent indicated.
The total percentage may not exceed 100%.
For example: in this screenshot, Wolf's Management Co. would receive 25% of the amount invoiced while the remaining 75% would be charged to Marco Balletta & Co.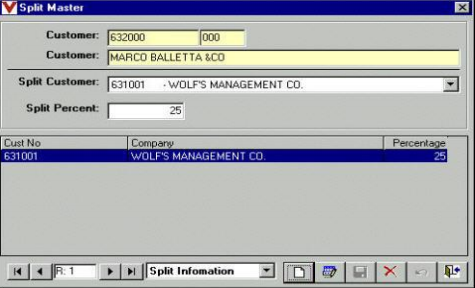 How to Create a Split Invoice
To create split invoices:
1. Access the Split Master from the Customer Master drop-down list.
2. Select the New Button to include additional customers.
3. Enter the appropriate information in the fields.
4. Click Save