This article will review how a user can add a picture to a report using the Pick from gallery option.
This is a feature that must be activated. If you need help setting this optional feature up, please get in touch with your Success Specialist.
NOTE: For a step by step guide to adding a photo in the m-Post app please see the Help Center article:
m-Post User Training - Adding, Replacing and Removing a Photo (Android)
There are several areas in the m-Post app that a user will have the opportunity to add a photo. (i.e. Tours, DAR reports, Task Requests, etc.) Whichever m-Post function the officer is using, the photo option will be designated with the same Camera icon and the word PHOTO.

If the Pick from gallery option is activated tapping the PHOTO icon will bring up a secondary pop-up window with 2 options: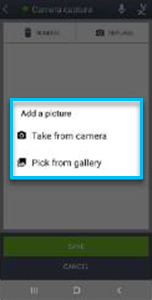 Typically when adding a photo to an activity or incident in m-Post an Officer will want to add a real time photo using the device's camera and will tap the Take from camera option.
There may be certain instances, however, when the preference is to add an existing photo to the activity or incident. In those scenarios, the Pick from gallery option can be used to add a photo from the devices photo album or library.